Vulcan's STONE epoxy flooring, a want "and" a need!
January 3, 2014 – Authentic STONE adds new layers of aestheticism around the house as it permanently covers cracked, uneven and discolored floors. It's the newest product released by Vulcan Basement Waterproofing– the oldest waterproofing company in the nation.
"Vulcan Basement Waterproofing is one of the best I have worked with in a long time. They showed up on time and delivered above and beyond what they were asked. They took care of my wet basement problem. I was impressed with the professionalism of the team of workers. The process was easy and the work was superb!" -S.B., Pennsylvania
Proud of its maximum durability, this flooring solution requires no-maintenance and offers a ten-year unconditional warranty.
Available in various colors and designs such as apache, black pearl, blue grey, cantina pink, erie shore, large pearl, multi-color flint, small coral, texas rainbow, white rose – customization is allowed depending on the need and accessibility.
All materials upon the creation are tested and approved by Food and Drug Administration (FDA), therefore, it's safe to say kids and adults will experience the total freedom to walk, run and explore around even in bare feet.

STONE modifies any concrete floor into a beautiful and safe sanctuary for the whole family. Its value insulation allows moisture to evaporate, which also protects the area from dampness, moisture and flooding.
The engineered coating in STONE allows the concrete to breathe naturally, which eliminates tracked-in dirt, standing water, puddling, salt damages and oil stains.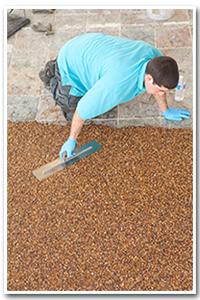 Installing STONE is easy and fast. After contact, the Vulcan team arrives and shares the plan with the homeowner before performing all necessary floor modification. All procedures are expected to be done in 24 hours or less, depending on the damage extent and the number of rooms.
"The crew, as expected, performed brilliantly! They were wonderful! They worked hard, were polite, neat, cleaned up after the job, and were totally professional. I would recommend your company to anyone who has ever had water in their basement." – Chris, Pennsylvania
Should there be any questions, please call 1-877-885-2268.
Press Contact:
Mike Solmen
Call us now: 1-877-885-2268
Visit us on: //vulcanwaterproofing.com/stone/
Like us on: //www.facebook.com/VulcanWaterproofing
Follow us on: //twitter.com/VulcanBasementW