New York Basement Waterproofing System for Problem-free Basements
According to the American Society of Home Inspectors, more than 60% of American homes suffer from below-ground wetness. It doesn't take much water to cause a lot of damage; a moist basement can lead to mildew and mold growth along with its health related hazards. If your basement floods occasionally or feels damp and smells musty, you might have moisture entry issues. Together with other waterproofing services New York basement waterproofing companies offer, a sump pump would make your basement a healthier and safer space.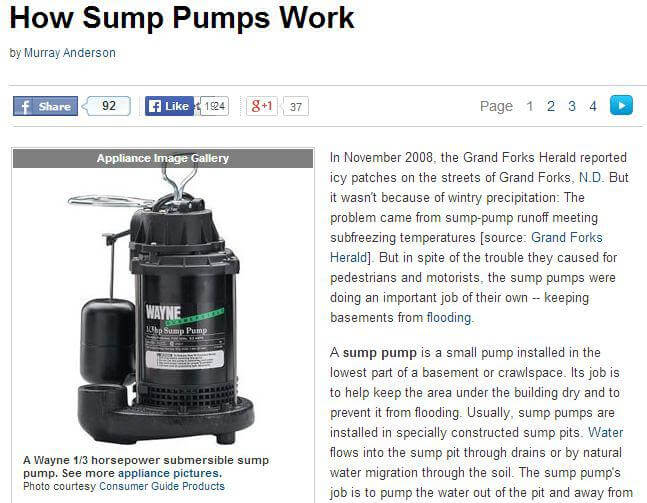 There are many options available for sump pumps, Murray Anderson says, in an article for How Stuff Works:
"Manual or automatic: Although manually operated sump pumps are available and slightly less expensive, an automatic pump is far more convenient.

Horsepower: Sump pumps are commonly one-quarter to one-third horsepower. More powerful motors will pump more water, but you don't need to go overboard if your moisture problem is minor.

Head pressure: Head pressure is the height a pump can raise water. For example, a pump with head pressure of 12 feet can raise water to that height, minus about 10 percent for physical limitations like bends in pipes. The pump you choose must be able to lift water out of the sump pit and up to the outlet pipe.

Cord length: You need to be able to plug a sump pump directly into a ground fault circuit interrupter outlet."
Unless you're a reasonably handy person, you should hire a NY basement waterproofing professional to install a sump pump for you. He will do necessary calculations like determining the lowest point of the basement and routing out the outlet pipe. He will also be able to cut through your concrete basement floors as the easiest way is to use a jackhammer. After installing, he will then do necessary system checks according to the manufacturer's directions. Basement water professionals also do routine maintenance for your system.
(Article and photo from: How Sump Pumps Work, Murray Anderson, How Stuff Works.com)